It's tough to help kids understand something they weren't around for…but, that's true of all histor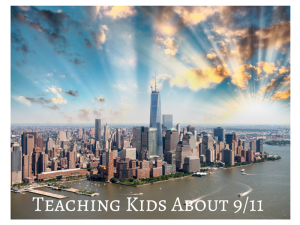 y, I suppose. It's just so different because of 9/11 being so recent for the adults of our country.
One of the ways I teach my kids about 9/11 is by reading a few picture books. Some of the best I have read are:
*The Man Who Walked Between Two Towers, by Mordicai Gerstein.
*The Little Chapel That Stood, by A. B. Curtiss.
There of course are many more out there, but these two always help my kids to understand 9/11 in a peaceful way. They don't go into much detail about terrorism or the harsh things we may want to keep our students away from, especially in the early grade levels, but they do leave an impact.
I also do a close read of the song, Where Were You When the World Stopped Turning, by Alan Jackson. This is a great song,
and again, only goes into the basics of what happened on 9/11. I have this item posted on TpT, with all proceeds going straight to the 9/11 Memorial Foundation. Last year, we donated $250 to the 9/11 Memorial Foundation from the sale of this item. This year, I'm hoping to do even better.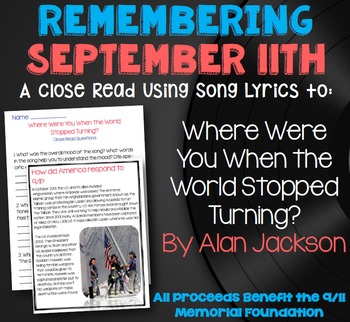 We need to keep the memory alive. Help our students understand what happened to our country on 9/11, and how our country stood completely united to help one another.
Keep checking back on ways to help your students remember 9/11/2001. I'll post some of the videos I use to teach students soon.
Happy teaching!
-Dan M.
(Visited 459 times, 1 visits today)