Looking to start using literature circles today? Well, I may be biased, but I think you came to the right place!! 🙂 Below is how I would suggest getting started in your classroom.
What books do I use?
Lit circles are meant for students to use with their small groups, without much teacher support, so you need to choose books that are at students' independent level. Can they be a bit above where students are? Yes, but not too far above. Students can support one another while reading, but if the book is at an instructional level, the group will undoubtedly shut down, become frustrated, and fail!

Also, be sure to group students together so they are all reading a book they are interested in. The last thing we want is for most of the group to be reading a book they have ZERO interest in.
What jobs do I assign?
I have 7 jobs available to students, but usually, only have 4-5 students in a lit circle. I do this for a couple of reasons. First of all, I want students to have a choice in the job that they choose. When students have that choice, they are MUCH more likely to buy into lit circles.

Secondly, I have 7 jobs that I think will deepen understanding of the story. Each of the jobs brings a different level of understanding to the student and the group.

I offer these jobs:
*Discussion leader
*Word Detective
*The SPC (setting, plot, and character tracker)
*The Connector
*The Recapper
*Drawing Captain
*In-House Poet

I have a pack of resources available which includes all of the jobs, with posters that explain to students the responsibilities of each. Check this out here.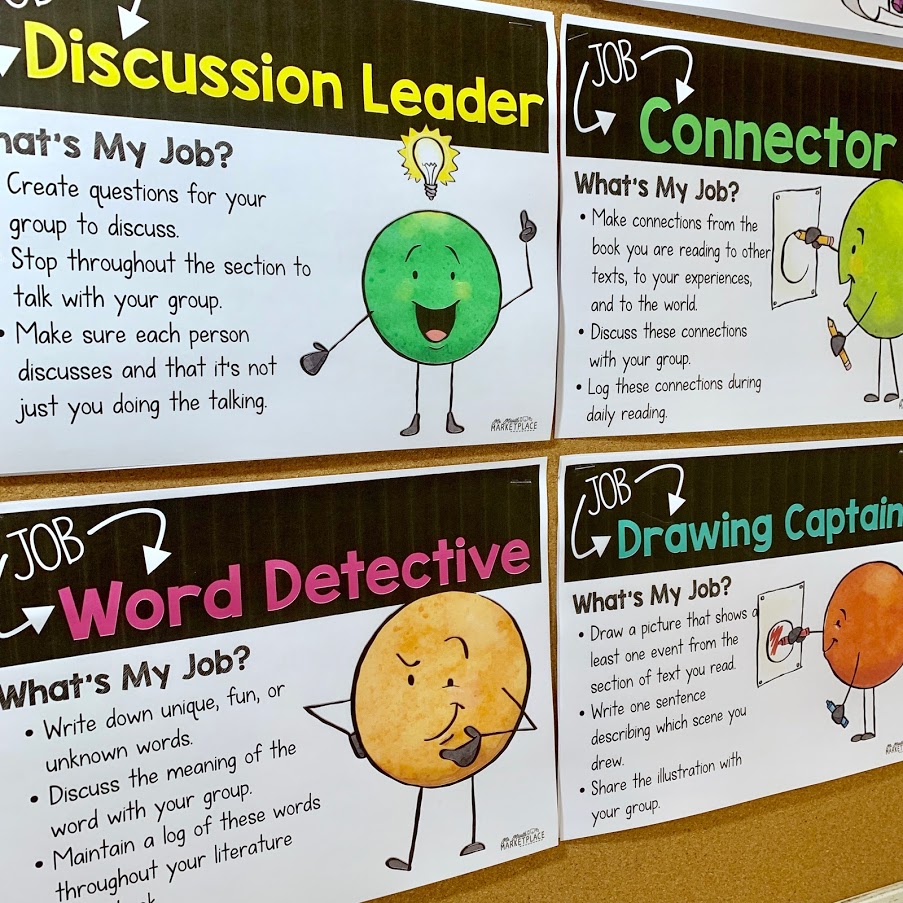 Day-by-Day
Before getting started, you will need the materials that go along with each of the jobs, the posters, and the student rules. All of these printable packs can be found here.

Day 1- Go over all of the jobs and explain what a lit circle looks like. If students have never been a part of lit. circles before, print the rules page to help students understand this. The posters should also be printed and displayed on a bulletin board in the classroom so students remember what each job is and how it is to be performed. It is VERY important to go over each job in full detail!
Day 2- Recap the jobs and MODEL, MODEL, MODEL what a literature circle is and how it should be run! I would highly suggest forming a small circle with a few students and leading the circle. If you can model this and discuss with students what each job should be saying, thinking, and doing, you will have far greater success.
Day 3- Have books picked out for students (or have students choose their own), have students choose his/her job, and get started with the reading process. I typically give groups all seven of the job packets, have them choose their jobs, and then turn the unused packets back into me. There is always some disagreement about who will complete which job, but I have students work this out!
What does each day look like?
I would suggest splitting lit circles up into three separate pieces:
1. 15-20 minutes of reading time. During this time, students just sit in their small circles and READ! They stop to ask questions and discuss each of their roles, but most of this time is simply reading!

2. In the next period of time, give students 8-10 minutes to finish their page in their job packet. This is independent! You may even want students to go back to his/her seat for this portion. If they finish this before the time is up, they can read an independent book.

3. 8-10 minutes of wrap-up. Students get back together with their groups and go around the circle discussing the information they came up with for his/her job. There is discussion, but each person, with his/her job in mind, should be leading their own section of the discussion. The conversations may be very similar to each of the group members, but each person is looking at the story through their own lens based on his/her job. This is also powerful, as it gives each member a leadership role.

Of course, this may look different in your classroom, but this has worked out for me.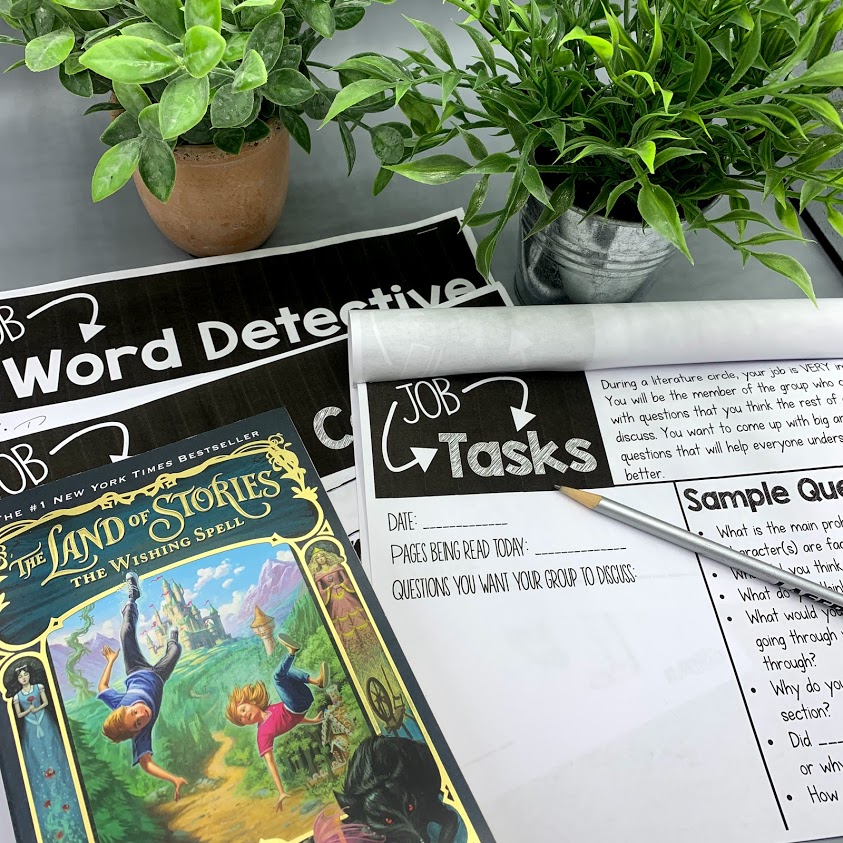 Issues
Of course, this can be very difficult for some students, as the teacher is not there the entire time to run the conversation, but LET GO a bit and give students the control. It really is powerful to see students use the questioning techniques that you have been using with them! They become the teachers and it's amazing to watch!

If you are seeing a TON of issues, no problem. Bring them back together and continue modeling! The more you model, the better these groups will run! I promise! MODEL, MODEL, MODEL!
Again, if you want the pack of materials, snag them here. It's print and go, so you truly can start these today!! 🙂
Happy Teaching!
-Dan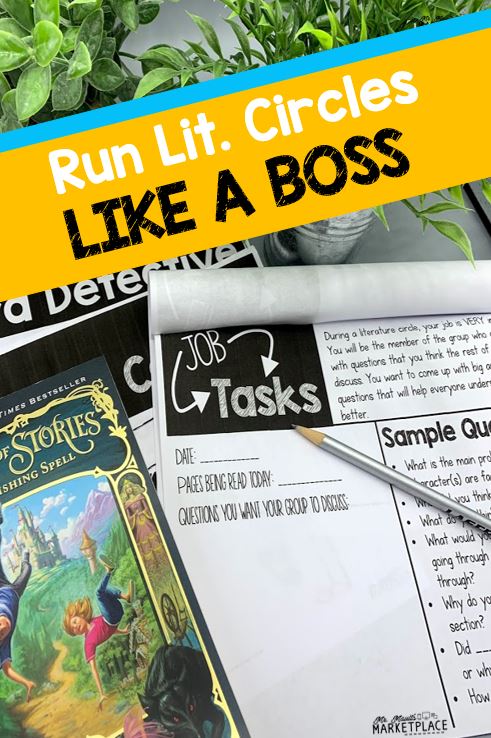 (Visited 3,320 times, 1 visits today)