Looking to build community, engage students, keep students on track for the day, and show gratitude? Then you are ready to run morning meetings like a boss! Morning meetings have been a total game changer for me this year and I will never look back.
I always thoughts that I had to give morning work, but this year I wanted to try something a little different. My students come into the room, complete the daily agenda, and then immediately go up to the front rug. We have announcements first thing in the morning, so before we begin the meeting, students listen to our principal talk and say the Pledge. Then, we start in with our meeting.
I have a projectable Morning Meeting slideshow that I use for our Morning Meeting each day, which goes through the 4 major components, as well as our daily schedule. I made this for both PowerPoint and Google Slides. You can find that here!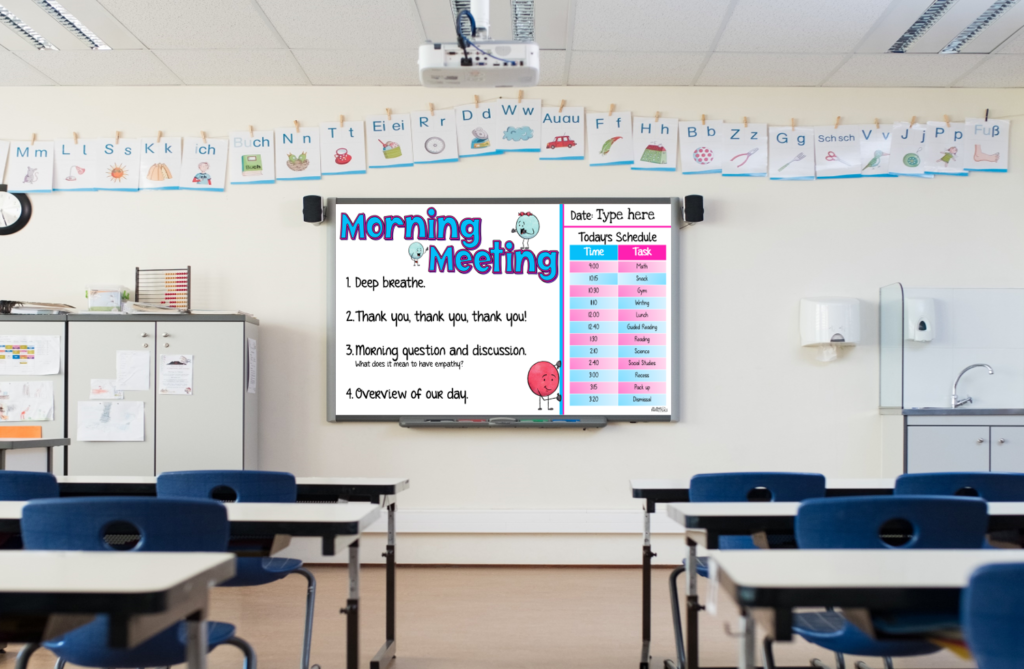 Daily Morning Meeting Format
To keep things consistent, we follow the same format each day:
1. Deep breathing- We all take two deep breaths just to clear our minds, open up our lungs, and get those brains working!

2. Show gratitude- We take 2-3 minutes to have students share gratitude for SOMETHING. It can honestly be anything, but I always begin by sharing myself. Sometimes kids don't know how to share what they are thankful for, so I want to be that role model. A couple of students then share about someone in the class, someone in the school, or someone from outside of school that they want to say, "thank you" to. This time is always great and the kids learn so much about one another through these conversations.

3. Question of the Day- Each day, we have a question of the day to get kids thinking. Some of the questions are deep, while some are just fun to answer and talk about with our class. Some relate to character education and help students grow, while others truly are just fun to talk about, but all of them get kids chatting. If I am tight on time, I may only have a couple of kids share their thoughts with the rest of the class, while if I have more time, I will have the entire class share, or share with one another. You can do this in any way you wish, but these are just a few ideas.

4. Schedule for the Day- The next thing I do at morning meeting is to share the events of the day. I go over the entire schedule and have kids ask any questions they may have about the day. This is helpful, especially for students who constantly ask what we are doing or what is coming next! Nip it!! 🙂

Get Started!
This year has been amazing with Morning Meeting. I have seen a difference in the levels of conversation the kids have, the community that has been built, and the kids' love for this daily meeting where we are getting to know one another! Again, if you want a pre-made pack of Morning Meeting slides, you can grab it here.
I hope you and your students enjoy!
-Dan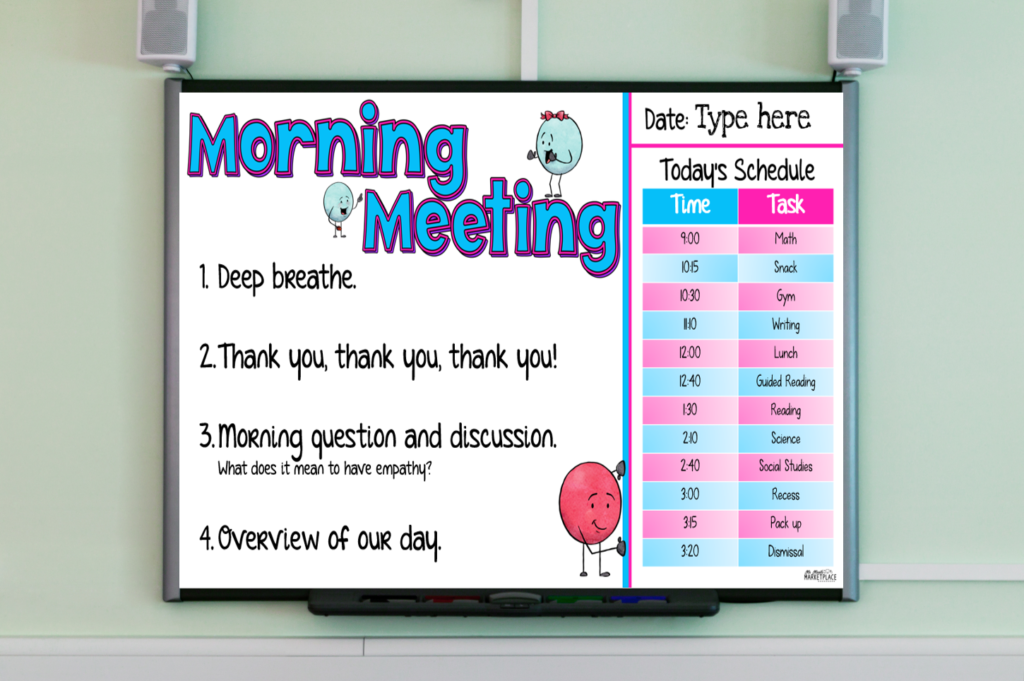 (Visited 8,482 times, 1 visits today)