Narrative writing is one of my favorite things to teach in third grade. I love the stories that I hear when we ask students to tell a life story, or to write about a memorable moment in their life, or to tell about a time that they learned a lesson. I learn so much from my students, who they are, and their backgrounds from these writing pieces.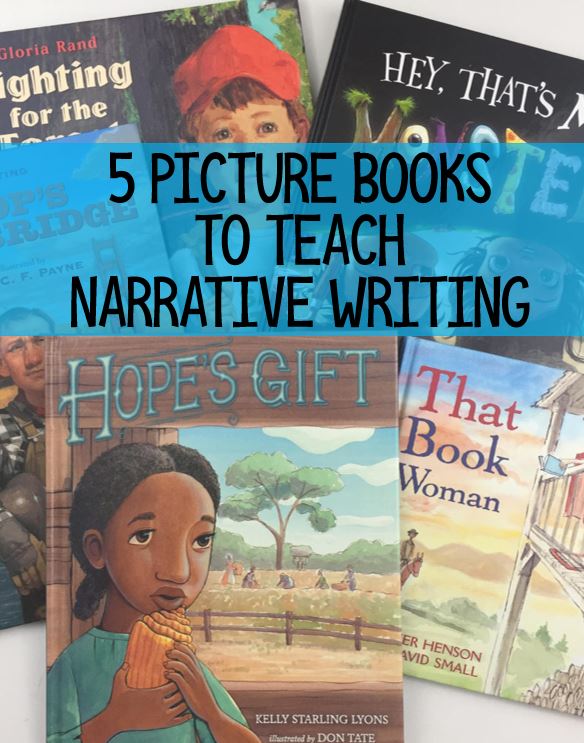 After we write stories about ourselves, I then teach my kiddos how to write narratives from another person or animal's point of view. As you know, the kids LOVE doing this. This year, we are writing from the perspective of a squirrel named Sammy who has a major issue…someone took the nuts out of his tree! The kids are loving this writing piece so far, and they are very excited to write from the perspective of a squirrel. Check this packet out here.
Before we started the writing process, I read my kids a few books to help them understand what narrative writing looks like in many different forms. Below are some of the books that I used, and yes, they are ranked! #1 is definitely my new favorite! 🙂
This is the story of a boy and his father who likes to hike in the ancient forest near their home. But one day they discover blue marks on many of the trees–the marks of loggers. The boy decides they must do something to try to save the forest. A campaign is launched and the fight is on.
This is a great book to link to the science curriculum, and a great one to teach narrative writing.
#4- Hope's Gift
It's 1862 and the Civil War has turned out to be a long, deadly conflict. Hope's father can't stand the waiting a minute longer and decides to join the Union army to fight for freedom. He slips away one tearful night, leaving Hope, who knows she may never see her father again, with only a conch shell for comfort. Its sound, Papa says, echoes the promised song of freedom. It's a long wait for freedom and on the nights when the cannons roar, Papa seems farther away than ever. But then Lincoln finally does it: on January 1, 1863, he issues the Emancipation Proclamation, freeing the slaves, and a joyful Hope finally spies the outline of a familiar man standing on the horizon.
This can really open up a great dialogue about our country's history, while teaching students about writing from someone else's POV.
#3- That Book Woman
Cal is not the readin' type. Living way high up in the Appalachian Mountains, he'd rather help Pap plow or go out after wandering sheep than try some book learning. Nope. Cal does not want to sit stoney-still reading some chicken scratch. But that Book Woman keeps coming just the same. She comes in the rain. She comes in the snow. She comes right up the side of the mountain, and Cal knows that's not easy riding. And all just to lend his sister some books. Why, that woman must be plain foolish — or is she braver than he ever thought?
Again, this is a great way to link social studies to writing and to ELA standards.
#2- Pop's Bridge
The Golden Gate Bridge. The impossible bridge, some call it. They say it can't be built. But Robert's father is building it. He's a skywalker–a brave, high-climbing ironworker. Robert is convinced his pop has the most important job on the crew . . . until a frightening event makes him see that it takes an entire team to accomplish the impossible.
This is a perfect book written from the perspective of Robert, whose father is working on building the Golden Gate Bridge. Also, a wonderful way to teach students the power of hard work.
When Ethan looks under the bed for his monster, he finds this note instead: "So long, kid. Gotta go. Someone needs me more than you do. –Gabe" How will Ethan ever get to sleep without his monster's familiar, comforting snorts? And who could need Gabe more than Ethan does? Gabe must have gone to Ethan's little sister's room! She has been climbing out of bed every night to play, and obviously needs a monster to help her get to sleep – but not HIS monster! Ethan tries to help his sister find her own monster, but none are the perfect blend of cute and creepy. Just when it seems that Ethan will lose his monster forever, an uninvited, tutu-toting little monster full of frightening fun appears.
Okay, so I am obsessed with this book! I found this one at Barnes and Noble and knew that I needed to incorporate it into my reading/writing curriculum, and our narrative writing unit was just the place to squeeze it in! Written from the perspective of Ethan, a little boy who does not want to lose HIS monster! This is a classic that I will continue using for years to come!
Hope this helps with your narrative writing unit.
If you have other books you use to teach narrative writing, I would love to hear about them! 🙂
Happy teaching!
-Dan 
(Visited 4,132 times, 2 visits today)