I try to teach my kids how to ask good questions. I have tried the "skinny vs. meaty" thing, and a few other strategies to get my kids thinking and creating both easy and higher level questions. It all seems to work when I am guiding the conversation or am pushing the kids at the rug while I read them a story, however, once they go off on their own and read in a small group, it all seems to slowly fade away. The kids begin to ask simple questions, that they can answer with one word.
I don't want my kids just asking each other questions in lit. circles or guided reading, I want them to have conversations. I want the kids to talk to one another meaningfully, but the conversations need to start somewhere, right?
I did what I thought may help my kiddos. I used something like this my first year teaching, but I have no idea where I got it from and can't even remember if this is truly what it looked like, but this seems to work.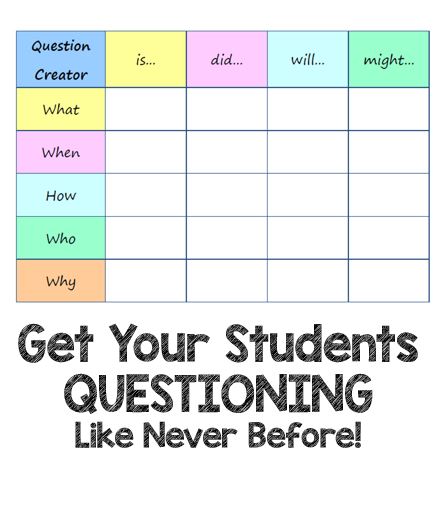 There are question words down the one side of the table and another collection of words across the top. When you cross the side word with another from the top, this can help the kiddos develop the beginning of a question. Some of the questions are very simple, while others are a bit more in-depth, activating the higher level thinking within the group.
I will consider tweaking this as I see fit, but for now, it
seems to be working. The true test will come once I take the organizer away from them.  🙂
Download the organizer for free in my TpT store.
Happy Teaching!
-Dan M.
(Visited 190 times, 1 visits today)