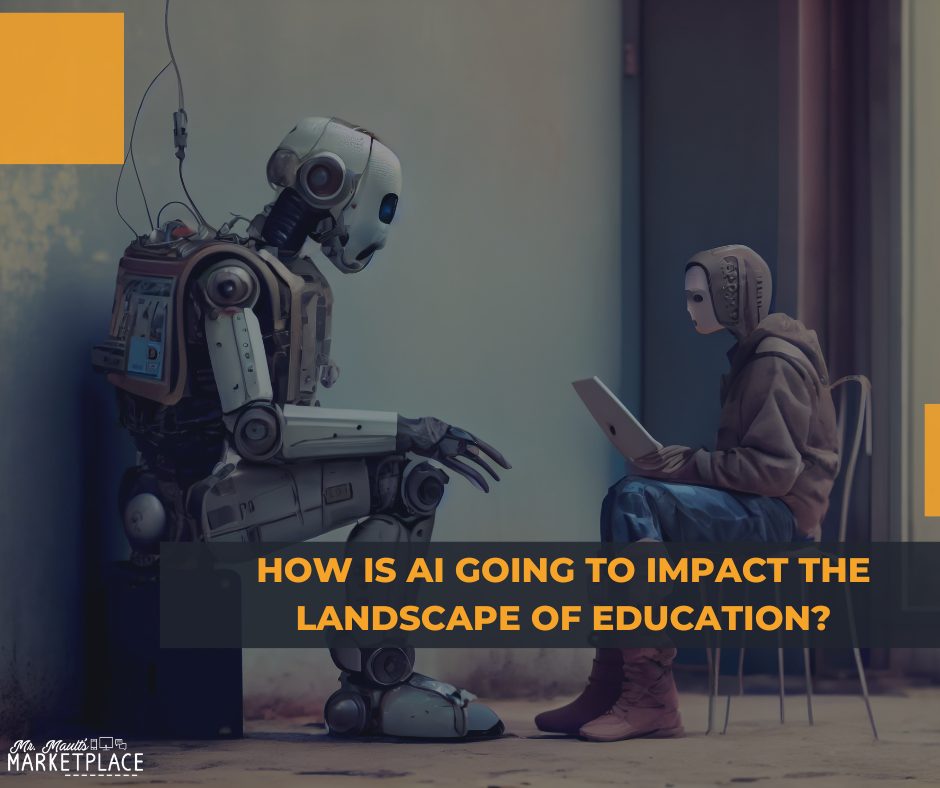 At this point, you have probably heard about the AI (artificial intelligence) apps and platforms that allow you to complete almost ANY task. I think the question that most educational leaders, teachers, and even students have right now is how this is going to impact teaching and learning. Let's dive deeper into this topic…

Artificial Intelligence (AI) programs like ChatGPT are designed to understand and respond to natural language input from users. These programs use advanced machine learning techniques to analyze and interpret the text, and then generate a response that is relevant and meaningful.
Are there benefits?
One of the ways AI programs like ChatGPT can benefit teachers is by providing them with a powerful tool for creating and delivering personalized learning experiences. For example, an AI-powered program could analyze a student's writing and provide feedback on grammar, style, and content, helping the student to improve their writing skills. Additionally, AI programs could be used to generate customized lesson plans, quizzes, and other materials that are tailored to the needs and abilities of individual students.
Another potential benefit of AI programs in education is the ability to provide real-time feedback to students, allowing them to make adjustments and improve their performance on the spot. This could be especially useful for subjects such as math and science, where students often need immediate help in order to understand complex concepts.
Or, should we be scared?
However, there are also potential harms that come with the use of AI programs in education. One concern is that these programs may replace human teachers, resulting in a loss of jobs and personalization. Additionally, there is a risk that AI-generated materials may be biased, leading to a narrow and limited view of the curriculum.
Another concern is the potential for AI-generated content to be used to create "teacherless" classrooms, where students rely solely on technology for their education. This could lead to a lack of human interaction and personalization in the learning process, which could have negative impacts on students' social and emotional development.
Overall, AI programs like ChatGPT have the potential to revolutionize the education system by providing teachers with powerful tools for creating personalized and effective learning experiences. However, it is important to consider the potential harms and biases that may arise from the use of these programs, and to ensure that they are used in a responsible and ethical manner.
Now…what about students? One of the greatest impacts that this currently has on teaching and learning is the ease of which students would be able to cheat. If a teacher is giving a writing prompt about a particular book that is being read in class, the student will easily be able to go to the app, type in their specific prompt and within seconds, they will have an entire essay on the topic given. There are currently other apps being developed to help curb this cheating and to assist teachers in analyzing whether the paper was written by an AI tool or not. But, I think there are other ways to ensure our students are making the right choices in school.
How to ensure students don't cheat:
Proctoring: One of the most effective ways to prevent cheating is through proctoring, which involves monitoring students during an exam to ensure they are not using unauthorized materials or resources. This can be done through online proctoring software, which uses webcams and other technology to monitor students as they take an exam.
Randomized questions: To prevent students from using AI to cheat, it is important to use randomized questions that are not easily found online. This can be done by creating unique questions for each student or by using questions that are not commonly found on the internet.
Plagiarism detection: Teachers can use plagiarism detection software to check student work for signs of cheating. This software compares the student's work to a database of other texts, such as previous student work, to identify any similarities.
Educate students: It is important to educate students on the consequences of cheating and the importance of academic integrity. By explaining the importance of personal responsibility and the negative impacts of cheating, students will be less likely to use AI or other means to cheat.
Monitor the use of technology: Teachers can monitor students' use of technology during an exam or test. This will help identify students who are using AI to cheat, and address the issue immediately.
Encourage collaboration: Encourage collaboration and group work to reduce the risk of cheating. This can be done by creating group assignments and projects that require students to work together, which makes it difficult for students to cheat.
Regularly update the technology: Cheating prevention technology needs to be regularly updated to stay current with the latest methods students are using to cheat.
It is important to note that even with all these measures in place, it's impossible to completely eliminate the possibility of cheating, but implementing these measures can greatly reduce the risk of cheating and help maintain the integrity of the educational system.
Where do we go from here?
I don't think any of us have the answers at this point, but we can surely do what educators do best…figure it out. We know that the temptation is out there for students to use AI tools for the wrong reasons, but maybe we need to help students understand how AI can benefit them in the right ways.

The answer right now is not to block this out at schools. We know that blocking things never goes the way we want it to and we also know that students have the access on their personal devices to use the tools. AI is going to play a part in our future (many of us interact with AI every single day without even thinking about it) and we are no doubt going to see this in the educational setting going forward, so how do we wrangle this in, use it for our benefit, and move on to what really matters; teaching our students to be self-thinking, creative, and world-ready citizens.

Let's continue the conversation. First of all, what are your districts doing about AI? How are you using this to your benefit? How are your students using these tools? What are you doing to prevent students from using this to cheat?

**Ready for a fun (or scary) fact? 85% of this post was written by AI.
And, I hope you now realize the power of this tool.
(Visited 114 times, 1 visits today)