Peer Feedback can be one of the most challenging parts of the writing process. If not done correctly, it can very easily become the most dreaded part for students, as we as the teacher. Speaking from experience…I have been there a couple of times.
In our room, we call Peer Review 'Warm and Cool Feedback.'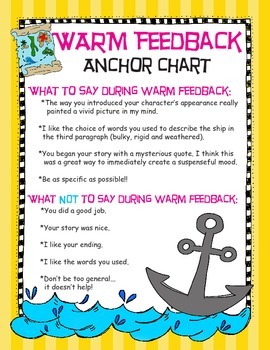 Through this process, the kids learn how to give constructive criticism, as well as giving positive and helpful feedback to each other. This allows students to become fully engaged in the writing process through this work.
I have found the best way to do this is to give examples to kids of 'What to Say' and of course, 'What NOT to Say' during Warm and Cool Feedback. One of the "Peer Review Posters" is on the side…they are also the featured FREEBIE this week.
In our room, we use Post-its constantly, including during this editing process. We use pink Post-its to write our warm feedback, a blue Post-it for cool feedback, and yellow post-its to write any other information that the editor would like to share with the author of the writing.
After students fully edit this work and write down all of their comments/suggestions, the kids then come back together to have a conference to explain their critiques.
This is maybe one of the most beneficial practices we do during writing instruction, and I can't write this post without thanking Angela Stockman, a writing instruction extraordinaire.  Check out her Web site for more tips and tricks of the trade to use within your classroom.
Angela's Web Site is called WNY Education Associates. She also runs WNY Young Writer's Studio.
The anchor charts are the featured FREEBIE this week:  Anchor Charts pack!
Thanks for looking!
-Dan M.