One of the MOST fun end of the year rituals in my room is giving out our in-class awards. Not so much related to academics, but fun, superlative-type awards! The kids have a blast getting the awards, and I have just as much fun picking the kids for the awards!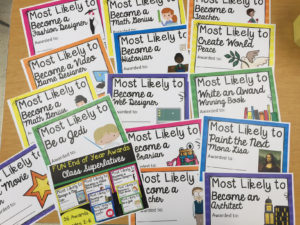 I just added a set of class superlative awards to TpT.
Check out some of these awards below!
They're available here: http://bit.ly/1YcU0m8
For more traditional awards, check these out: http://bit.ly/1U5Zzjh
Have a great end to the school year and RELAX this summer! 🙂
Happy teaching!
-Dan M.

(Visited 3,960 times, 1 visits today)